Overview
Present & Past Sponsors
Benefits
Profile of Past Attendees
Sponsors
---
Business Promotion Opportunities
MECA has developed a highly professional and prestigious image among its senior executive members. Any speaker or presenter using MECA platform therefore commands high respect and credibility from their audience.
MECA invites a select number of business partners with relevant service offering to CFOs to participate its events as Sponsoring Partners. In return, MECA offers generous business and networking opportunities to the sponsoring partners to promote their products and services among the conference attendees.
Previous Sponsors
Our previous conferences have been sponsored by a large number of businesses representing multiple industries and regions. They include:
SAP
Aranca
MIAGEN
Nimai Consulting
Thomson Reuters
Resource Global Professionals (RGP)
Association of Finance Professionals
APL Management
Emax
Malakut Insurance
Alliott Consultants
Motivaluate Training
For sponsorship queries please contact:
Saba S.
Director of Communication & PR
Saba@mecacfoalliance.com

Present & Past Sponsors
---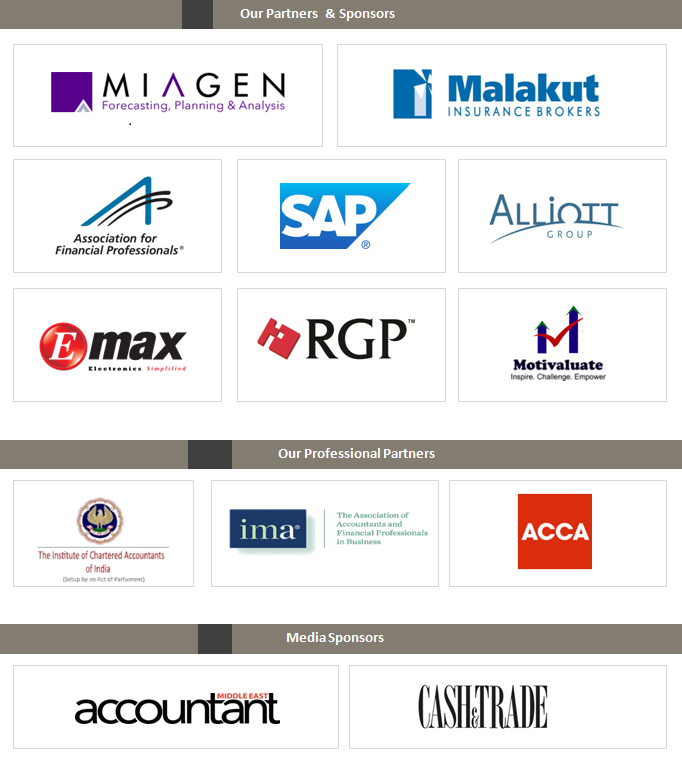 Benefits
---
Networking & Promotional Opportunities
On Site Exposure:
Sponsors put on display a reasonable amount of banners, logos and signage on the designated spots in the main meeting hall and surrounding networking and registration area to promote their businesses, products and services.
Formal Introduction to All Attendees:
A formal announcement is made during the conference to introduce the sponsoring partner to the entire audience. A description of your company (about 100 words) is included in the introduction.
Speaking slot / Presentation by Sponsor to All Attendees:
Depending upon the sponsorship package, the sponsor can have the opportunity to make a presentation directly to the entire audience.
Distribution of Promotional Materials:
Sponsors can bring promotional material for distribution to attendees. Such material is placed on a side tables to be picked by the attendees.
Advance List of Delegates with Contact Details
Depending upon the sponsorship package, the sponsors can be provided with the delegates list with contact details before the event so they can pre-select the prospects and potential clients for one on one meeting as well as following up after the conference.
Media Coverage:
Journalists and reporters representing local and regional business and professional magazines attend to cover the event giving additional publicity to sponsors.
Past Attendees
---